Hello gorgeous!
How it started:
I am a West Texas girl through and through. I have two sisters, one brother, a brother-in-law and as of July 2016 a sister-in-law. My family is my rock (that's uber cliche, but SO true). My parents inspire me daily as a reminder of what hard work, true love, and God can do for a relationship. I attended Texas Tech University for a degree in Mathematics. I married the man of my dreams my senior year, three months after we tied the knot we were moved to Florida. We couldn't g
et back to Texas fast enough! Lubbock, Texas called us back, people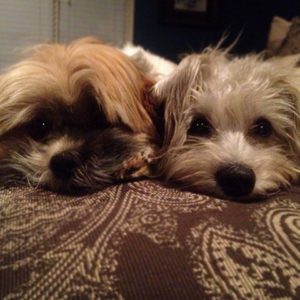 are nicer and prettier!! 😉 Although, I wouldn't change it because we gained one of our treasured fur babies, Andy. When we came back we gained our second precious puppy, Leia. They are truly our best friends. I was working as a tax preparer and hated making people mad/sad! My mom asked me to photograph my sisters, one graduating from high school, one from high school. My sisters are gorgeous, but I had A LOT to learn. My hobby became a challenge, the challenge became my passion. I am blessed to be able to do what I love, and everyday I push myself to make your images beyond believable!
Want to know more?
Literally, my favorite color is glitter! I tend to get highly distracted with gold glitter right now! 😉 I used to struggle when I was asked what my favorite color was. I analyze like crazy, I would think "To wear, black. Eye color, blue. To color, hot pink. Jewelry, sparkly…" and the list went on and on! I love to laugh, and don't mind being laughed at. I am introverted, but as soon as I meet you I want to be your best friend! I LOVE Starbucks! Anytime, anywhere. My guilty pleasure is chips and queso, Lubbock has the best! I love West Texas rain storms, but my friends call me "Doppler" because I DON'T like hail or tornados, not to mention I like to know what my day is going to be like (every hour or so)! 🙂
My work:
I LOVE photographing high school seniors or anyone wanting to go outside the box. I honestly want every person to have an image of themselves that they feel beautiful! I jump at the moment I get to create a set, or theme based shoot.
I want to redefine the way you think about photography. I like to inspire & use new ideas. I find that each person I shoot has a different outlook on creativity & beauty. They inspire me to make the photograph represent them, and not just capture them. I love creating something that is beautiful in your eyes, something that you can't help but want to look at it. I want to create images that you are so proud & excited to have. I strive to not only take & create customized, personalized images from the lighting to the theme, but make you have the best experience you could ever imagine. I like walking away knowing that you enjoyed yourself, even if coming into it, all you could think about was how much you hate being in front of the camera. So much so, that you're beyond eager to get your images & excited to do it again. I want to give you a portrait that every time you walk by it in your house you think, "I LOVE THAT!!"
I love Instagram, Snapchat, digital photography, Photoshop, and Lightroom for giving professionals, enthusiast & social butterflies the ability to create something they find beautiful. I like looking at how other people channel their creativity. I am continuously learning & eager to bring new methods and ideas to your custom session. I LOVE learning, and teaching what I know. I don't believe in hiding what I do or how I do it! I do believe that in this modern era we live in it is easy to point a camera at someone and take a pretty great picture, keeping that in mind, I want to give you my art! 🙂